Bios
Dream Sequence Productions is the web site of producer/media artist Lyn Gaza and illustrator/animator Michael Manning.
Lyn Gaza
Lyn Gaza brings a synthesis of creative and production skills to every project she's involved with. She has helped to develop interactive user experiences for games, ebooks, mobile apps and location based interactive experiences. With over 10 years experience producing and creating for emerging media projects, Lyn provides a solid foundation for each new challenge. She is adept at managing diverse teams of writers, artists, engineers and clients for projects large and small. In 2011 Lyn worked with Mirada/Motion Theory as content producer for the Data Visualization wall and interactive kiosks for IBM's Centennial exhibit at Lincoln Center. The project won an ADC Gold Interactive Award and was a finalist at SXSW for Interactive Technical Achievement. Lyn recently joined XavierLab as Director, PMO.

 Lyn's creative work began with photography, combining metaphoric symbols and mysterious figures to create dreamlike tableaus. Her work has been published by nylon, Dwell and Harper Collins, amongst others. Beginning in 2004, Lyn worked as an animator and colorist, contributing her vision to music videos and shorts, feature movies and episodic shows. Her recent visual artwork combines photography with video and animation, creating an atmosphere of mystery and drama as seen in her earlier photographic work.
 Recent projects have been focused on creating location based immersive theatrical pieces. In 2010 Dream Sequence partnered with the Los Angeles Opera's Ring Festival, Highways and collision/theory for a well-received multimedia retelling of the epic poem The Nibelungen. Blood Red Lost Head Dead Falcon: The Nibelungen was written and directed by Aaron Henne, produced by Lyn Gaza and inspired by a graphic novel illustrated by Michael Manning. Dream Sequence designed and animated projections and Lyn was instrumental in putting together the creative team. Lyn is currently in development for an immersive theater based work based on her original script, entitled Afterimage.
View Lyn's profile on LinkedIn
Michael Manning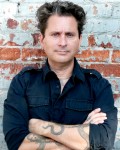 Born in New York and raised in Massachusetts, Michael began drawing as soon as he was old enough to hold a pencil. Early exposure to Japanese animation, mythology and fairy tale book illustration as well as American and European comics contributed significantly to the formation of his style. Michael studied Film and Animation at the School of the Museum of Fine Arts in Boston. His interest in combining live-action film with hand-drawn animation resulted in his experimental short Up & Back receiving a regional merit award in the Academy of Motion Picture Arts & Sciences' 12th Annual Student Film Awards as well as an Artists Foundation Grant for Film.
Michael spent the next seven years working as an animator and director of award-winning short films, commercials, and music videos for stop-motion studio Olive Jar Animation in Boston. During this time, he also drew and self-published his own original comics, which resulted in his professional comics debut in Crow creator James O'Barr's and musician/animator John Bergin's Bone Saw anthology.
A move to the West Coast in 1991 coincided with Michael's emergence as a writer and illustrator of original graphic novels and art collections for publishers such as NBM Publishing and Last Gasp. Michael's signature graphic novel The Spider Garden has since been translated into French, German, and Italian. His adaptations of the work of H.P. Lovecraft, Edgar Allen Poe, Alexandre Dumas and other classic authors appeared in the Graphic Classics anthology series. Digital releases of his books are also in development.
As a freelance animator, character designer, and storyboard artist, Michael has worked for many studios, including Colossal, Curious? Pictures and Wild Brain. His illustration clients include Chronicle Books and Harper Collins. Multimedia performances have provided yet another venue for his work, in the form of animated projections, concept art, set and costume designs.
Michael's artwork has been exhibited in San Francisco, New York, Chicago, Boston, Miami, Los Angeles, Mexico City. Tokyo, and Milan. In 2002, mural-sized reproductions of panels from his In A Metal Web graphic novel were featured as part of a special installation at San Francisco's Yerba Buena Center for the Arts comics-themed exhibition Fantastic! Comics and the Art of Illusion. His creative direction informed the visuals for Blood Red Lost Head Dead Falcon: The Niblelungen. A solo show featuring work from his illustrated graphic novel The Nibelungen and concept art for the show was displayed at Highways Gallery during the Los Angeles Ring Festival.
View Michael's profile on LinkedIn
To get in touch please send an email to projects@dreamsequence.org or use our contact form here.